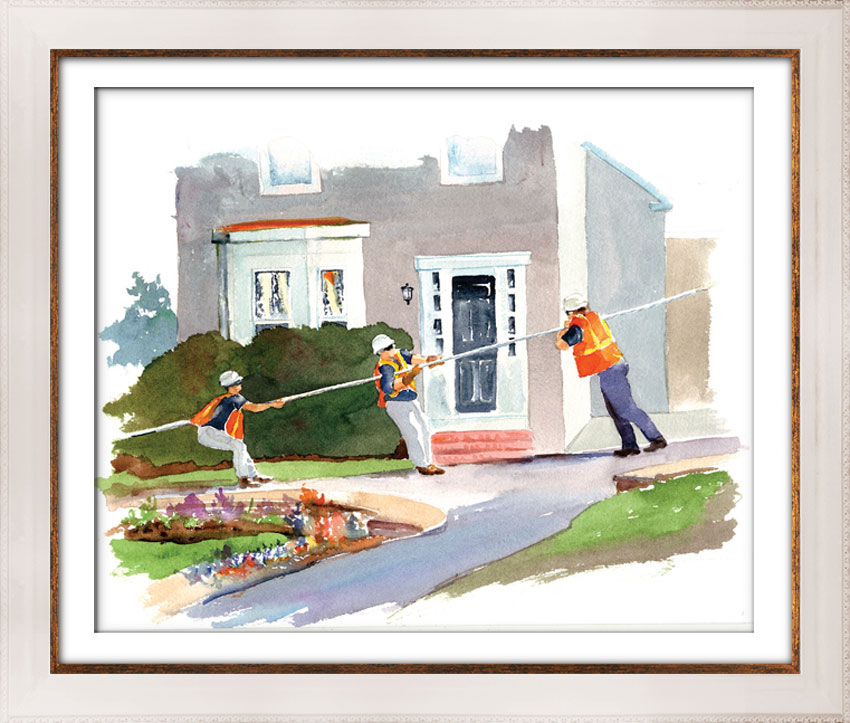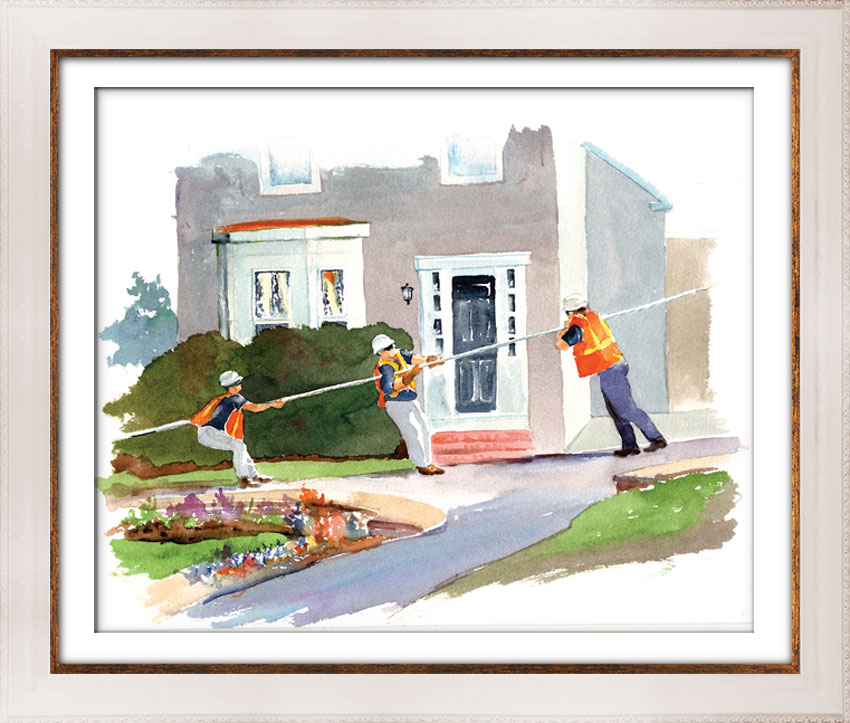 Today's WOW! is an interesting example of how artist Denise Brown is able to find beauty in the most ordinary elements, like this watercolor painting: "The Linemen". As Denise told us:
"I was looking out my window one day and saw the linemen working on the street. It was such a great effort to run the line that I was inspired to paint the picture of the 3 men working so hard to make sure our telephones lines were updated."
Denise Brown
At first glance you realize the impressive level of control and technique that this painting shows in every brush-stroke. That the apparent simplicity can only be mastered after years of perfecting watercolor techniques.
Denise Brown graduated from the University of New Hampshire in 1976 with a self-designed major in Fine Art, Commercial Art, and Marketing. It was a serious start to a lifetime of artwork. Since then she has created illustrations and paintings for many of her clients and collectors. "I have made a living supporting myself as a self-employed artist since 1980, often working 60-80 hours plus a week," Denise told us. "I am constantly trying to improve my skills as an artist."
Her greatest love is being an equine artist. She is author/illustrator of "Wind, Wild Horse Rescue," a book about wild horses with 100 of her horse drawings and paintings, as a mission to help wild horses in America. The story is written through the eyes of a wild colt that gets captured in a round up. Denise is a wild horse advocate and wrote this book to make people aware of America's wild mustangs' plight for survival today. Denise posts wild horse updates on her blog at www.windwildhorse.com. She's also an artist for The Trail of Painted Ponies collectible horse figurines.
Her landscape paintings, architectural renderings, animal & house portraits and computer skills are how she tell her stories with her artwork.
Denise Brown is also an author and illustrator of several children's books and coloring books.
Most of her books are about real events that have good endings. Her subjects have been cats and dogs, horses, kids, a deer, a tugboat and a famous little submarine. "I find some stories just write themselves and have to be told. I have great fun illustrating and embellishing the characters and their adventures — and, I like happy endings."
Her coloring books about "Ted the Cat" feature fun places for children to see in Portsmouth and Hampton Beach, New Hampshire. They are great memories for families that visit these towns. She was commissioned to produce the 2015 Hampton Beach Coloring Book she just finished this winter. She also was commissioned to do coloring books on smoking, going to the hospital, going to the bank, famous horses, and more.
Her last publication is a children's book, "USS Albacore Submarine, Welcome Aboard!" is about a famous little submarine that sits on the ground at Albacore Park, Portsmouth, NH, and how she got here!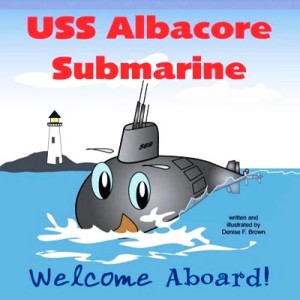 It is a one-of-a-kind submarine and was the U.S. Navy's test sub because her tear-drop shaped hull was revolutionary. Brown's colorful animated characters bring Albacore back to life. Retail $14.99 on Amazon.com, at Albacore Museum, local stores and on her website www.raccoonstudios.com.
Discover more about Denise Brown and her books in her websites www.raccoonstudios.com and www.windwildhorse.com.
Denise purchases Stu-Art Supplies Show Packs in a variety of sizes to show & market her prints. "I love Stu-Art Supplies because their great customer service!" (thanks Denise!).
Subscribe to our Newsletter:
If you Like it, please Share it: