Invitation to Alice Riordan Solo Exhibition
|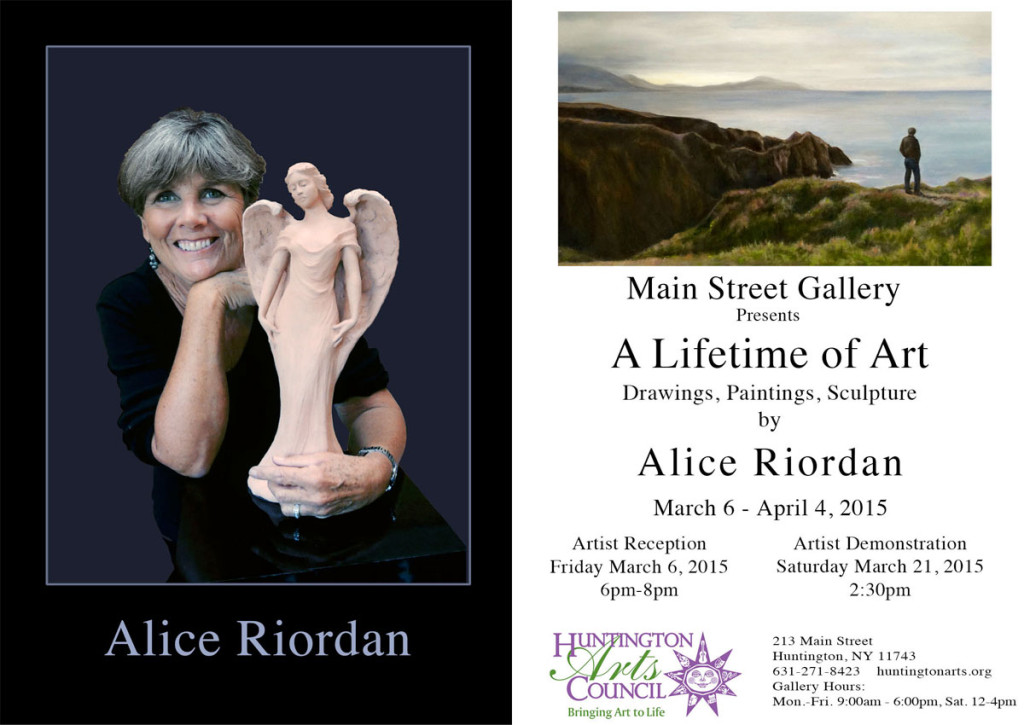 You're invited to Alice Riordan Solo Exhibition: A Lifetime of Art Drawings, Paintings, Sculpture at Main Street Gallery, Huntington, New York. The opening reception will be next Friday March 6, 2015 at 6:00 pm. Alice Riordan will also do an artist demonstration on Saturday March 21, 2015 starting at 2:30 pm. Come and enjoy the beauty and passion of this amazing artist.
Event: Alice Riordan | A Lifetime of Art Drawings, Paintings, Sculpture.
When: From March 6 to April 4, 2015.
Time: Monday to Friday, 9:00 am to 6:00 pm.
Artist Reception: Friday March 6 from 6:00 to 9:00 pm.
Artist Demonstration: Saturday March 21, 2015, 2:30 pm.
Place: Main Street Gallery
FREE Admission.
Location: 213 Main Street Huntington, New York 11743 (see map below).
About Alice Riordan
Alice Riordan was originally a painter, influenced greatly by the beauty, sensitivity, and color of French Impressionists Renoir and Degas. While studying painting in Florence, Riordan found herself inspired by the emotion and passion of Michelangelo's sculptures. Several years later Riordan became a sculptor herself, studying under George Gach, Angelo Bona and Margit Malmstrom. Combining the input of her teachers, Riordan's knowledge of technique and anatomy grew, as did her passion for sculpting. In the foundries, her sculptures began to come alive with the age-old process of bronze casting.
If you would like us to publish something about you, please click here.
Subscribe to our Newsletter:
If you Like it, please Share it: