Invitation to the Views from Accabonac art show with David Lyttleton Smith
|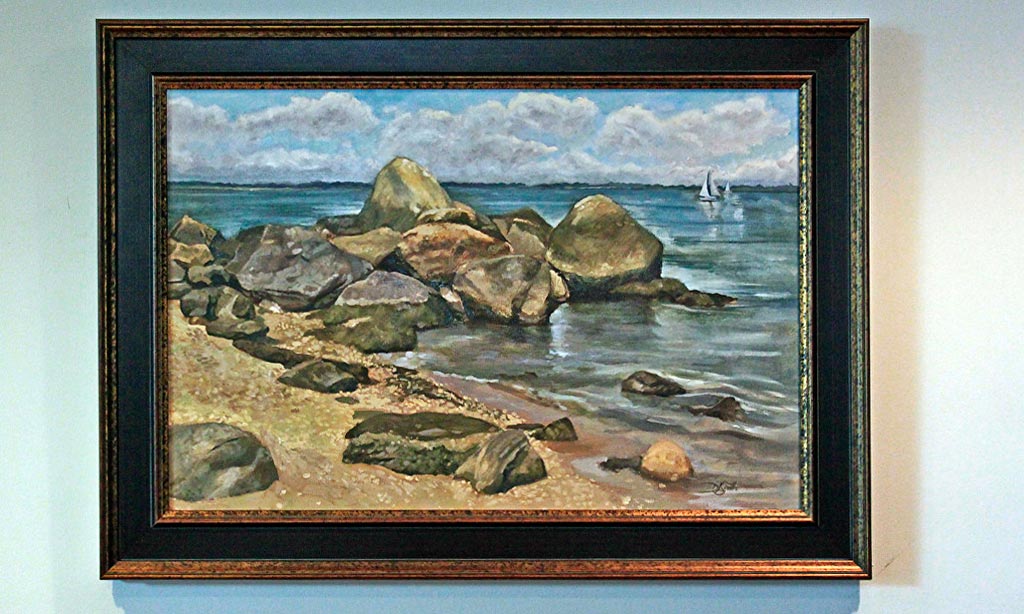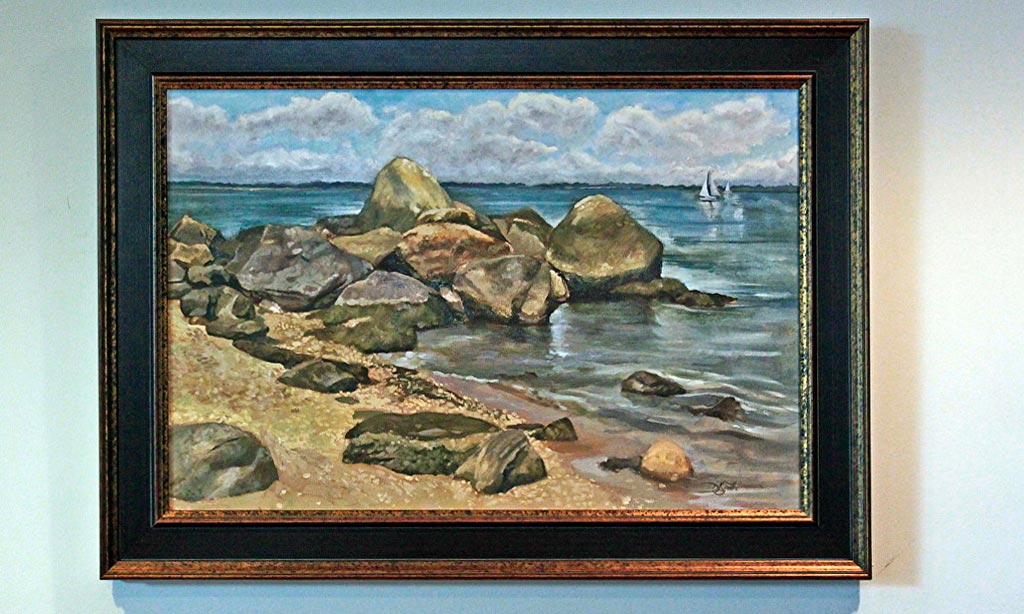 This painting, "The Fishing Rocks" by David Lyttleton Smith, will be on display at Ashwagh Hall during the Views from Accabonac art show from the 31st of October to the 1st of November.
I just had this painting framed at Stu-Art Supplies in Baldwin New York. Once again, they've done a wonderful job. This painting is of a rock formation jutting out into Gardiner's Bay along Gerard Drive in East Hampton. We've been privileged to spend some time there with good friends over the past few summers. In fact, my wife Alison grew up swimming around these rocks on summer vacations with her friends Claudia and Diane, who lived across the street from her in Valley Stream. The girls pretended they were mermaids and called this place Mermaid Lagoon.
David Lyttleton Smith
An opening reception will be hold on November 1st at 6:00 pm.
Some of the proceeds from the show go to fund the good work of the Accabonac Protection Committee, who are working to protect the local wetlands for the future.
Event: Views from Accabonac.
When: From October 31st to November 1st, 2015.
Time: Saturday and Sunday, starting at 11:00 am.
Opening Reception: Saturday October 31st at 6:00 pm.
Place: Ashwagh Hall
FREE Admission.
Location: 780 Springs Fireplace Road, East Hampton, NY 11937, USA (see map below).
About David Lyttleton Smith
David Lyttleton Smith took art courses at Florida State University, and then went to Tulane University for his Masters of Fine Arts in Painting, studying under celebrated abstractionist and teacher Pat Trivigno, who had studied under noted New York School artist Phil Guston and American regionalist Thomas Hart Benton, who also taught Jackson Pollock. After graduation at Tulane, Smith taught painting classes there before moving to Miami where he taught painting, figure drawing classes as well as a specialized study of techniques and materials classes at Florida International University.
Since relocating to New York, Smith's work has continued to evolve, including figure painting and commissioned portraiture once again, but his most compelling interest has been seascapes or "marines" as they are known in the art world.
Discover more on his website www.davidlyttletonsmith.com
If you would like us to publish something about you, please click here.
Subscribe to our Newsletter:
If you Like it, please Share it: