Take advantage of our Affiliate Program and
accumulate credit

promoting Stu-Art Supplies products on your website, blog or email.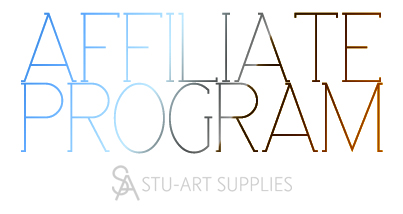 Through the years we have come to realize that a majority of our sales are generated from referrals made by our many loyal customers. We are grateful for these referrals and as a way to say "thank you", we are pleased to announce the launch of our Affiliate Program.
The program allows you to accumulate credit to be used on futures orders for sales initiated from a referral link placed on your own website. You will receive a credit to your account of 5% of the merchandise total for orders placed by customers referred to us through your link. It's our way of saying thank you to our customers for continually referring us to their fellow artists, students, etc. for the past fifty years.
If you would be interested in becoming an affiliate, please give us a call or email us and we will gladly explain the necessary steps that need to be taken.

OUR AFFILIATE PROGRAM IS VERY EASY:
Sign Up on our on-line store www.stu-artsupplies.com (you don't need to sign up again if you are already an on-line client). It's FREE. No experience needed.
Contact us in order to become an Affiliate (we must activate your Affiliate Account).
Place an Affiliate Tracking Link on your website, blog, Email, etc.
When a person following your Affiliate Tracking Link visits our on-line store and buys a product, you will automatically receive a 5% credit for that purchase.
Monitor your credit: Every time someone buys one of our products, it will appear as a commission on your Affiliate Account.
Control your information: You can easily manage all your available credit, withdrawals and other information on your Affiliate Account.
You can also create and download Reports anytime.
You will accumulate credit as long as your Affiliate Account remains active.
For more information about our

Affiliate Program

, please contact us:

Share it: