Custom Framing An Unbelievable Coincidence
|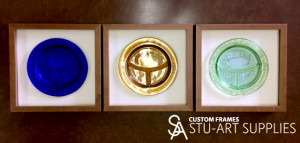 When a husband and wife walked through the door late on a Saturday afternoon we knew they were holding an important package. As being a second generation family business ourselves and after being in the framing business for decades, you get a feel for the importance an item has to a family. They had 3 plates wrapped in towels and were handling them very carefully. After unwrapping them, we learned that one of the plates belonged to the wife's mother and although there wasn't much monetary value, it was extremely important to the family.
As it turns out, the wife's sister was at an antique store and came across 2 others that were an exact match, just different colors. Without any hesitation, she purchased them and created a set. They wanted them framed in a way that would show guests to their home how special they are to them.
Here are the three plates that we, at Stu-Art Supplies, custom framed and matted (click on each image to make them bigger):
Custom Framing the plates
The frame used was Larson Juhl profile 663181 in cherry with a 2 ¼ depth and the mat used is a museum quality Artique A4204 Oyster. We cut a circular opening in the mat and used several sheets of foam core to build up to create the floating look. For more information about Archival & Museum Matting please click here.
For more information about custom framing, please contact us:
Subscribe to our Newsletter:
If you Like it, please Share it: