Lisa Goren in the New York Times
|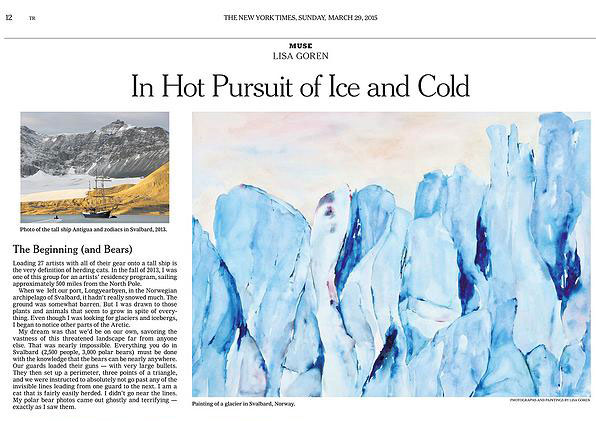 Artist Lisa Goren wrote and article for the New York Times, talking about her experience in an artists' residency program approximately 500 miles from the North Pole. Her article, that was published in the Sunday edition (March 29th, 2015) of the New York Times, includes several of her own characteristic watercolor paintings influenced by the icy landscape and her personal experience, as well as some photos that she took during that trip.
You can read the on-line version of Lisa Goren's article in the New York Times website.
And take a look at Lisa Goren's art classes starting on April, just click here.
About Lisa Goren
Lisa Goren was born in California and raised in NYC. Her watercolors show an unfamiliar landscape in a new light. By using vibrant colors and taking risks with different surfaces, she makes the viewer reevaluate their understanding of both these landscapes and their beliefs in the potential of the medium. Her works create questions about the nature of abstraction and our planet as many of her pieces are representations of unfamiliar terrains. Lisa's work can be found in personal collections all over the world, from Australia to Iceland, to much of the United States. She was awarded a place on the 2013 voyage of The Arctic Circle, an artist residency sailing near the North Pole. Lisa has been working out of Boston, Massachusetts for the past 25 years.
Discover more on her website: www.lisagorenpaintings.com
If you would like us to publish something about you, please click here.
Subscribe to our Newsletter:
If you Like it, please Share it: