Art Classes: Allison Rufrano's Summer Photography Workshop in Italy
|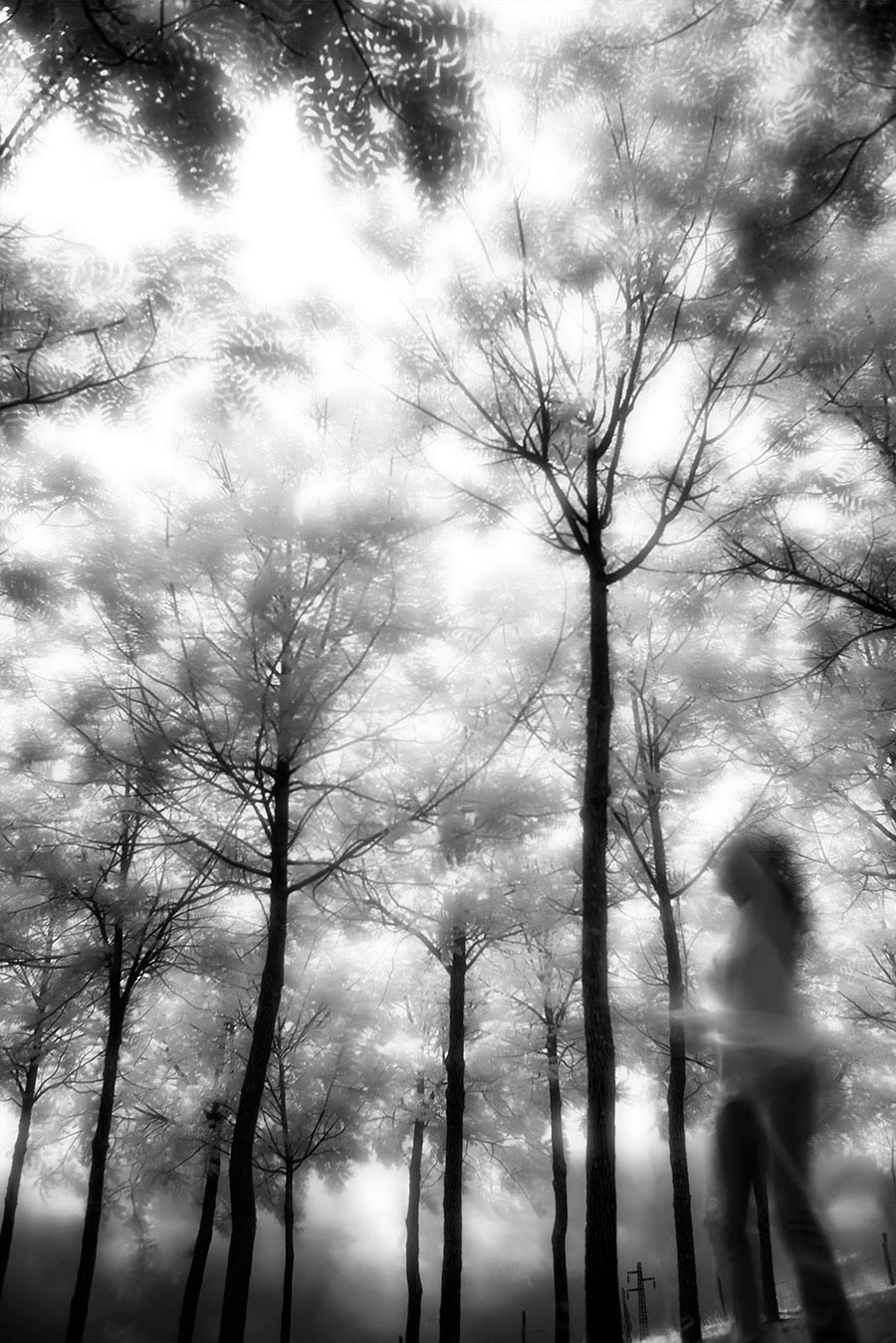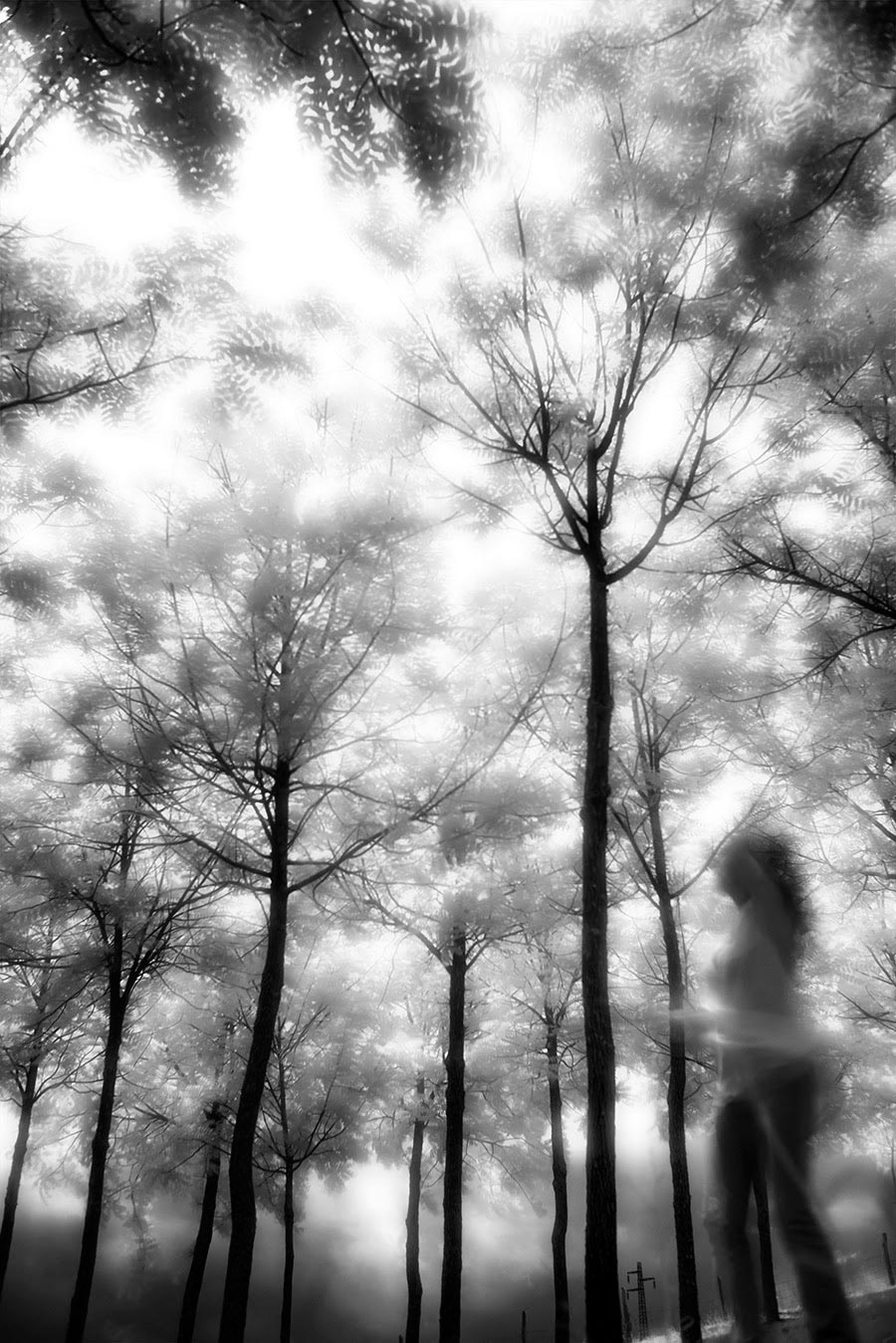 Acclaimed photographer Allison Rufrano and Terracomunica organize an international photography festival, meeting-point, entertainment out in the open to rediscover oneself and nature and more.
A wealth of experiences for students, teachers, young and old, beginners and experts is what Umbria (Italy) has to offer.
From Gubbio to the beauties of the northern part of Umbria, photographers become conscious of their past, and let it permeate their pictures. The artists are able to open their hearts and minds and…eyes. The towns and hills of Umbria will be the backdrop as participants interpret their subjects with renewed creativity, while developing an individual style and sensibility.
INCLUDES:
• 6 NIGHTS STAY IN GUBBIO, ITALY.
• 5 LUNCHES, 5 DINNERS
• PHOTOGRAPHY EXHIBITION
• SPECIAL FAREWELL DINNER
ITINERARY: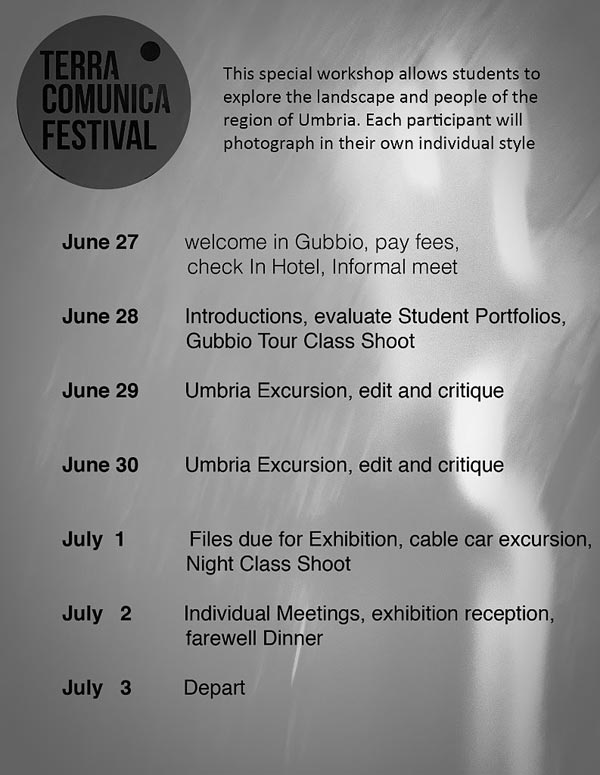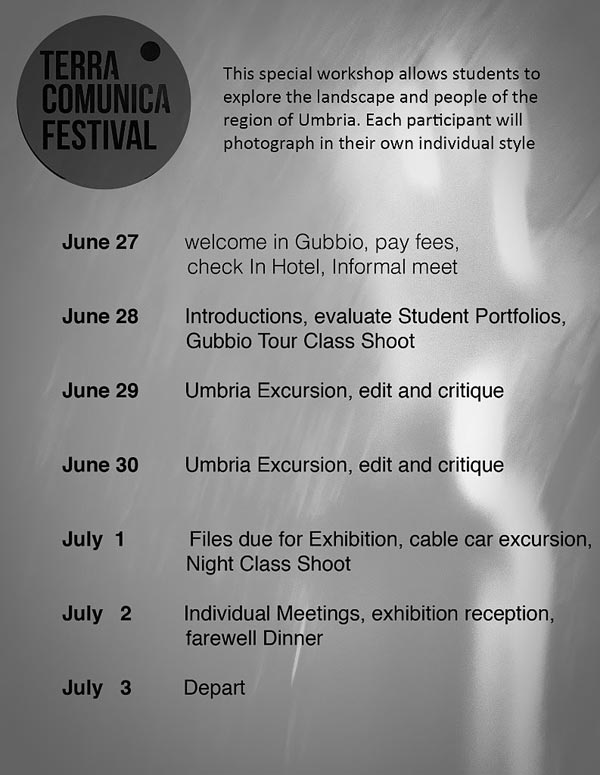 ELIGIBILITY:
The course will include lecture, critique, editing sessions and field trips in the Umbria region. A portfolio of 10 photographs is required to present to the class on the first day. Students need to have a digital camera, tripod and a laptop that has editing software to prepare images for print. The workshop will conclude with an exhibition of student work. Students must be 18 years or older to participate and have the ability to climb hills and stairs while carrying their equipment.
Take action today and sign up for this workshop. The only thing you need is your camera and an open mind.
Contact Allison Rufrano at allisonrufrano@gmail.com for more information or to register.
About Allison Rufrano
Allison Rufrano's thought provoking work has been exhibited in solo and group exhibitions nationally and internationally. Rufrano's mysterious and expressive images explore the spiritual essence of the artist. The ambiguity she creates is deeply rooted in her use of self or others, with her camera acting as a mirror to reflect a vision that questions reality and meaning.
Ms. Rufrano holds a BA in Fine Art with a Minor in Art History from Adelphi University, a MFA degree in Photography and a MS degree in Art Education from Long Island University Post. She presently serves as Adjunct Associate Professor at Suffolk Community College, Nassau Community College, and Long Island University.
Discover more on her website www.allisonrufrano.com
About Terracomunica
Terracomunica is a non-profit organization, that offers a combination of education and culture which aims to highlight the importance of sustainable development of territory and earth, encouraging us to pass on the knowledge that mankind is to step on land to live and not to use.
Visit Terracomunica official website for more information
If you would like us to publish something about you, please click here.
Subscribe to our Newsletter:
If you Like it, please Share it: