Custom framed Doll from 1915
|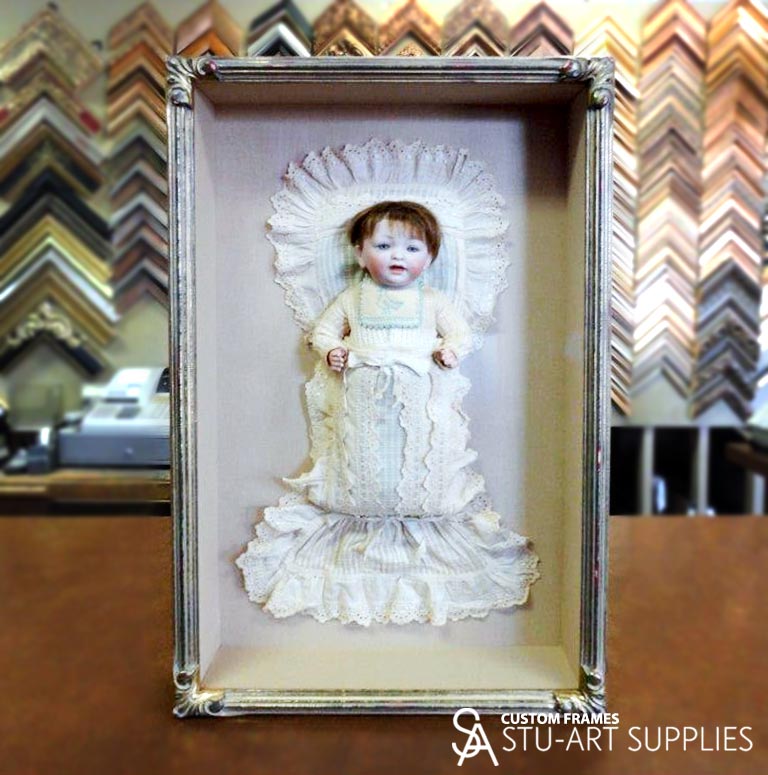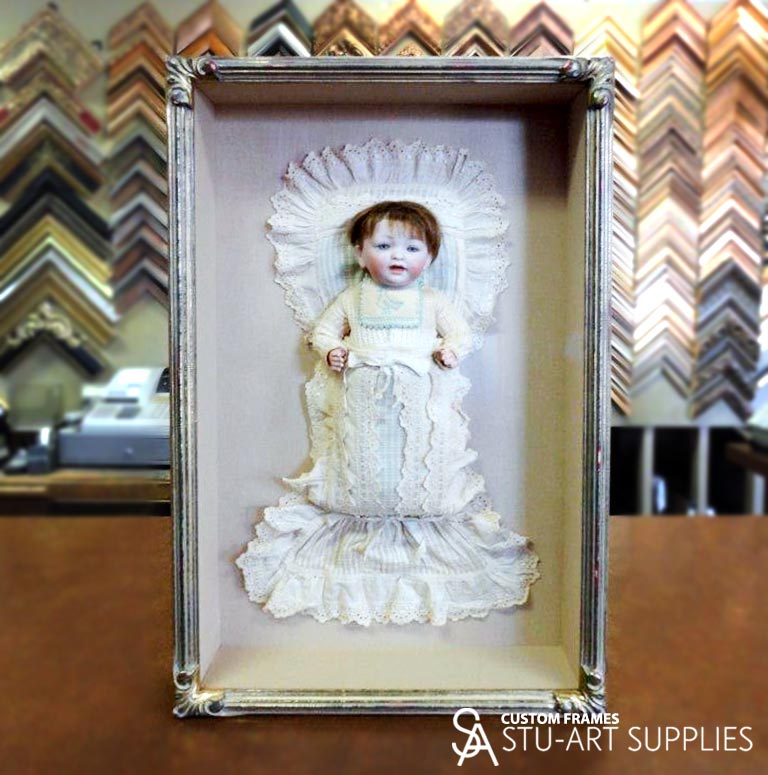 About 2 years ago I was contacted by an old friend who asked the great framing question:
"Can you guys really frame anything?"
Well after laughing a bit I replied with my favorite stock answer:
"If we can hold it down we can frame it."
Two weeks later she walked in the door with an extremely fragile and deteriorated doll from about 1915.
I will tell you we were excited about this framing challenge. The doll belonged to the woman's grandmother and was something she wanted to surprise her dad with. When we asked where her dad would hang it she replied: "Forget that, it's going in my living room." We all laughed but knew she was serious.
After several design attempts we came up with a plan:
• The frame would be a hand carved 4 3/4 inch deep box and lined with a neutral Bainbridge silk mat board.
• The carving on the frame was copied from a French artifacts box we saw in the Metropolitan Museum of Art in New York City.
• The frame finish was produced by laying red clay on the raw wood and then 22k gold leaf was applied.
• The next step was to burnish it and introduce an antiquing process. This is what makes it look as if it's 100 years old.
[Story continues below this image]


This particular custom framed work was so delicate that we actually delivered & installed it. That evening I received a call from the family to thank the entire Stu-Art Supplies team for the care and craftsmanship that went into this job. It would be an understatement to say we were thrilled ourselves with the outcome.
It's this kind of work that still excites us.
For more information about custom framing, please contact us:
Subscribe to our Newsletter:
If you Like it, please Share it: