Yosha Graphics: Original Vintage Prints for Art Lovers & Designers
|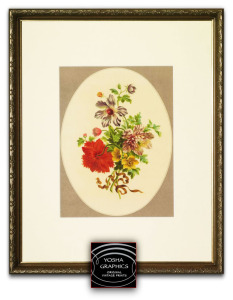 Laurie and Mike Yosha of Yosha Graphics love what they do. As they say: "If we wouldn't hang a print in our own home, we would not sell it!". In order to offer that level of quality, Laurie and Mike travel and stay in France for months at a time in order to find the finest and most authentic pieces of vintage art. "We have recently returned from an exciting buying trip in Paris and have added to our growing collection of stunning vintage French prints and awesome original fashion drawings.", Mike told us.
What exactly is Yosha Graphics? "We established Yosha Graphics in 1990 to offer some of the wonderful images that had become part of our own continually growing collection. Our fine French and European drawings and vintage prints represent a wide variety of subjects, styles, and time periods dating from the 1880s through the 1980s. Many are classic Art Nouveau or Art Deco.", said Mike Yosha. "We feature leading illustrators such as Cassandre, Marty, Barbier, Brunelleschi, Lepape, Gruau, Mucha, and Helleu."


Yosha Graphics' collection includes prints that appeared in periodicals as cover art, advertising, or story illustrations. Others were published in books or portfolios, fashion, decorator and botanical albums, shop and trade catalogues, performance programs, etc. While none of their prints was originally meant to be one-of-a-kind, the passage of time has made most of them quite rare or unique. Many prints from Yosha Graphics come in pairs or in series, adding myriad possibilities for creative arrangement. They are very proud of their growing collection of one-of-a-kind original fashion drawings and gouaches. Those designs for daywear, furs, hats, evening gowns, sportswear, etc reflect the timeless chic of French haute couture.
Their selections work well with all types of décor from contemporary to traditional and will beautifully enhance the owner's living or work space. Their guaranteed original vintage prints are always in exceptional condition.
One of their collections is Botanicals, that are up for sale on their website and were also available on a private sales site from Amazon featuring hand-picked styles from top designers and boutique brands). Here are a few examples that we, at Stu-Art Supplies, custom framed and matted (click on each image to make them bigger):
Visit their website www.yoshagraphics.com and discover more.
Some of their collections are also available on Rubylane.com.
Custom Framing & Archival Mats for Yosha Graphics
We custom frame some of Yosha Graphics' artworks using our archival mats with acid free foam core backing. Our Archival Series mats are cut from Artique conservation quality, alpha-cellulose matboard. This matboard is acid and lignin free and cuts with white pristine bevels. It will preserve valuable artwork and personal treasures for years to come. For more information about our Archival Mats please click here.
Subscribe to our Newsletter:
If you Like it, please Share it: