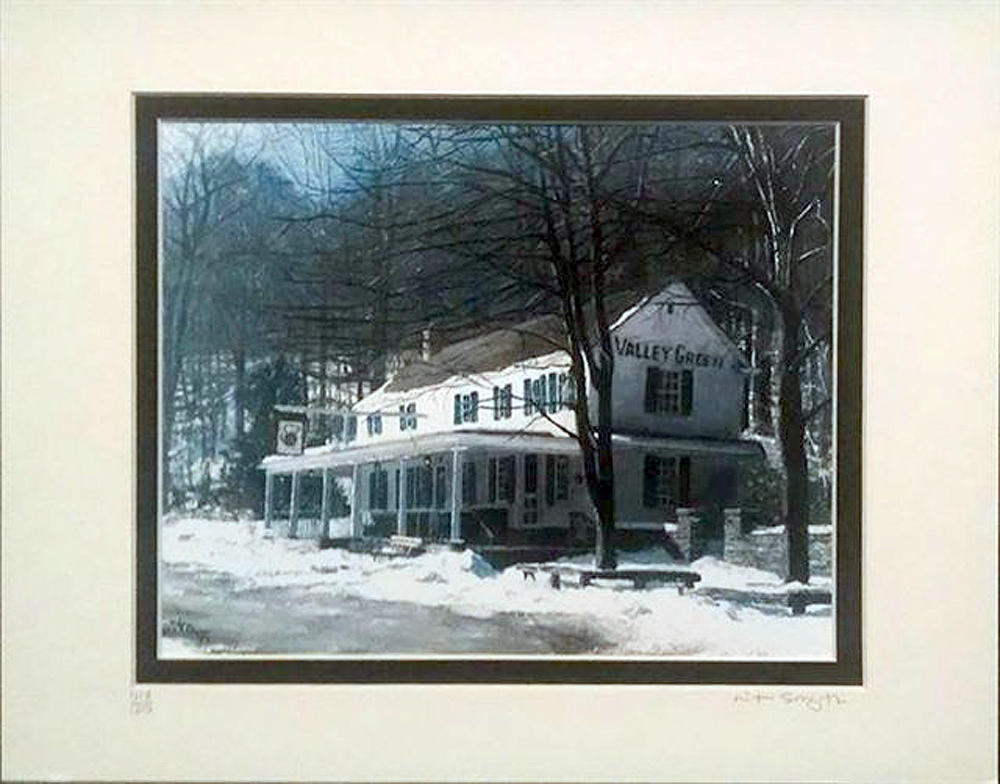 "Winter in Valley Green, Philadelphia" acrylic painting by Nita Smyth © 2014 using Economy Mat Series.
This WOW!!! is called "Winter in Valley Green, Philadelphia", it's an amazing example of artist Nita Smyth's unique style capturing the mystical beauty of the area. At a quick glance you almost think it's a photograph. After a moment you realize that it's a painting. Nita captivates the essence of a moment through texture and light that improves the scenery. Her mystical impressions evoke a mood, creating feelings of peace, anticipation and wonder.
Nita Smyth told us about her painting:
"This is a painting of the Valley Green Inn on Wissahickon Creek in Fairmount Park, Philadelphia. I love hiking in this park all year round. The day I took the picture which inspired the painting, my brother, Andy, and I and my two little Shih Tzus, Totem and Scout, went sledding on some of the many trails that are in the park. We all had the 'bestest' time. I felt like a kid again, laughing and screaming as we all went speeding down the hills behind the inn. The inn is open for lunch and dinner. The food is delicious. In winter they have a beautiful fire burning in one of the dining rooms. It is one of my favorite places to visit any time of year."
Originally from Philadelphia, Nita attended Endicott College in Beverly, Massachusetts where she studied commercial art. In addition to painting, Nita has also designed greeting cards, advertisements for magazines, several business logos and even game boards for Parker Brothers. Nita's work has been featured in some special exhibits including the Bath County Art Show, the opening of The Mustoe House Art Gallery and Sugar Hollow Creations Winter Festival in Virginia. She has had several one-woman-shows and has been accepted into several juried art shows in Florida and Pennsylvania.
Nita Smyth developed her unique style portraying farm animals, landscapes and historical landmarks while living in Warm Springs, Virginia for three years. She is now commissioned to paint for individuals across the country, specializing in pet and home portraits.
Find more of Nita Smyth's paintings on her Facebook page. For commissions, please contact her.
About the photo: "Winter in Valley Green, Philadelphia" acrylic painting by Nita Smyth © 2014 using Economy Mat Series, a double mats combination of textured #228 Bright White on top with 1/4 inch reveal showing #246 Dark Grey as the inner mat.
Share it: