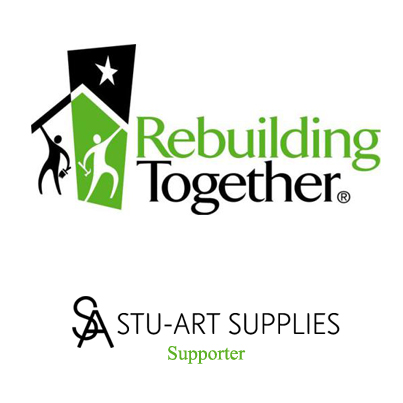 Friends, we would like to introduce you Rebuilding Together, a charitable organization with one important mission: "to preserve and revitalize houses and communities, assuring that low-income homeowners who are either elderly, disabled and/or single-parent families, live in comfort and safety while maintaining their independence".
Stu-Art Supplies is a proud sponsor of Rebuilding Together Long Island. And we will like to thank all of you, because you also make this possible.
Please take a look at their website www.rebuildingtogetherlongisland.org, because your community needs you.
Rebuilding Together Long Island, Inc. is a program to repair and rehabilitate the homes of poor, elderly and disabled homeowners. It brings together people of all faiths and walks of life in an effort to assist people in need. It is non-partisan, non sectarian and non-profit.
Rebuilding Together Long Island, Inc. performs repairs in the following areas: electrical, plumbing, wall repair, weather-stripping, lock-smithing, carpentry, painting, glazing and home modifications including wheelchair ramps.
Volunteers come from all walks of life. They represent all professions, corporations and businesses. They do not need to be skilled at home repairs.
Funding comes from banks, businesses foundations, service organizations, clubs, individuals and religious organizations that care and are conscious of the community in which they live.
Share it: