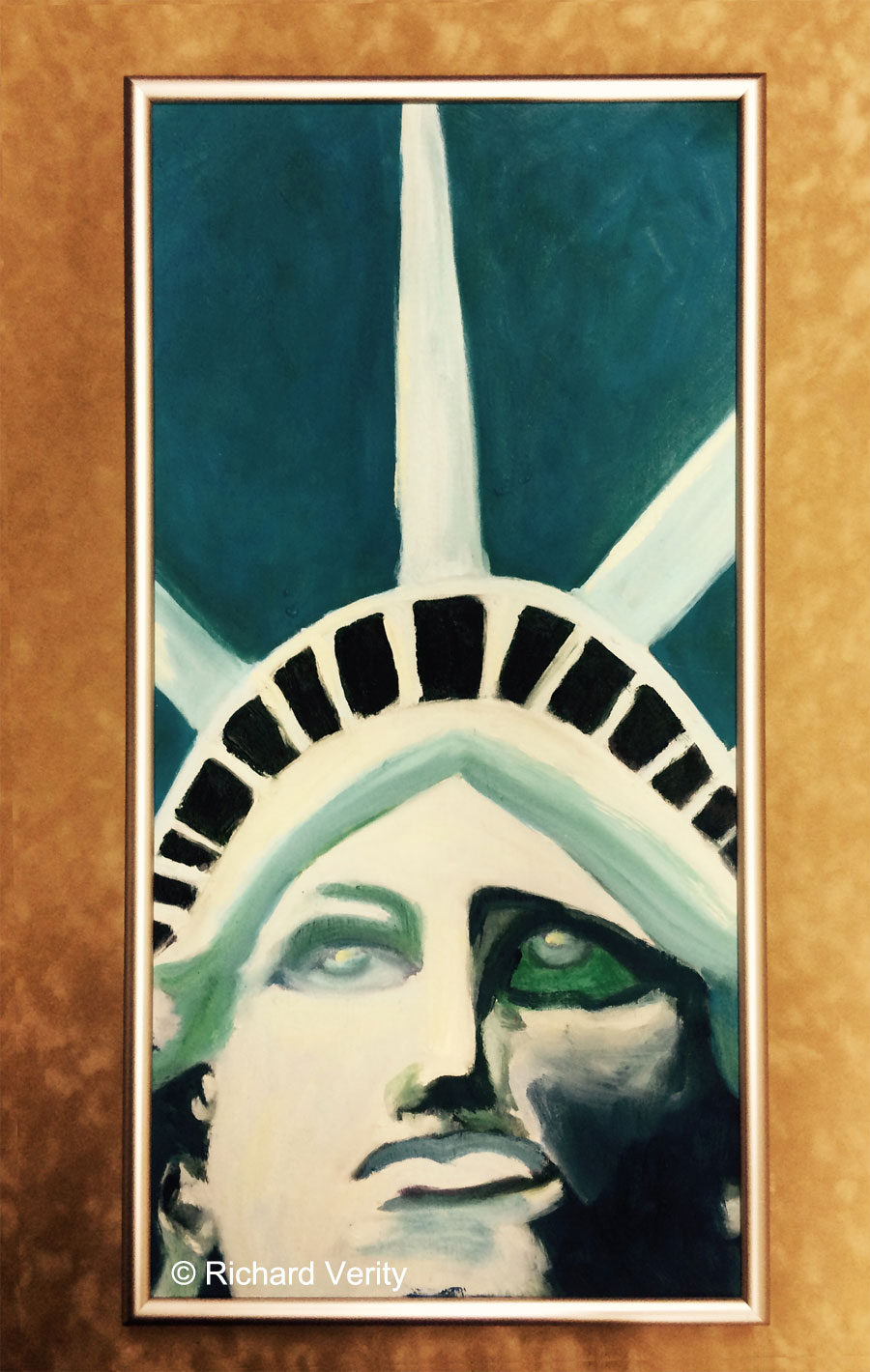 Today's WOW is an oil painting titled "Liberty" by artist Richard Verity. It's an interesting example of how a painting can have a deeper meaning the longer it's viewed:
This canvas is the 'Janus' (of two minds) of my work to date. The statue represents two aspects of Life we all inherently yearn for throughout our lives – Liberty and Freedom. One side of the face reflects the perspective of youth – the strength of vigor, moral and just conviction, independence, with clarity of vision for the future. The other side of the face depicts the perspective of adulthood – the realization that Life is full of adversity to overcome, which can leave you demoralized, vulnerable, crying out, with a 'cynical eye' towards Life. Resolving to two perspectives as one, as we all must, is a path to the conceptual liberty and freedom we all seek.
Richard Verity
Verity not only captured that duality on his painting but also added strength through the hardness of his brushstrokes.
Richard Verity grew up in Oceanside, NY, and has been a Long Beach resident for the past 28 years. Having lived by the sea all his life, Richard finds the ocean to be a poignant metaphor for Life – calm and tranquil one day, raging and turbulent the next.
Art has been the driving undercurrent of Richard's life; taking up drawing at the age of 25, and painting at the age of 33.
His pursuit in his work is to seek himself out in whatever he sees.
After a successful career in IT with Citibank for 25 years, Richard is now semi-retired, and pursuing his lifelong passion – oil painting!!!
Liberty is framed in #25 Silver from our Nielsen frame collection. The choice was made with regards to the complexity of the work. We used the #25 Frosted Silver because the artist wanted something simple to just "finish it off." The brushed appearance of that frame has an industrial feel which is commonly associated with this iconic image.
See some more paintings by Richard Verity on the Long Beach Art League website.
His work is being displayed at:
Coffee Nut Café
250 E Park Ave, Long Beach, NY 11561
Hours: 6:00 am – 8:00 pm
(Monday through Saturday)
Stop by and take a look.
Subscribe to our Newsletter:
If you Like it, please Share it: