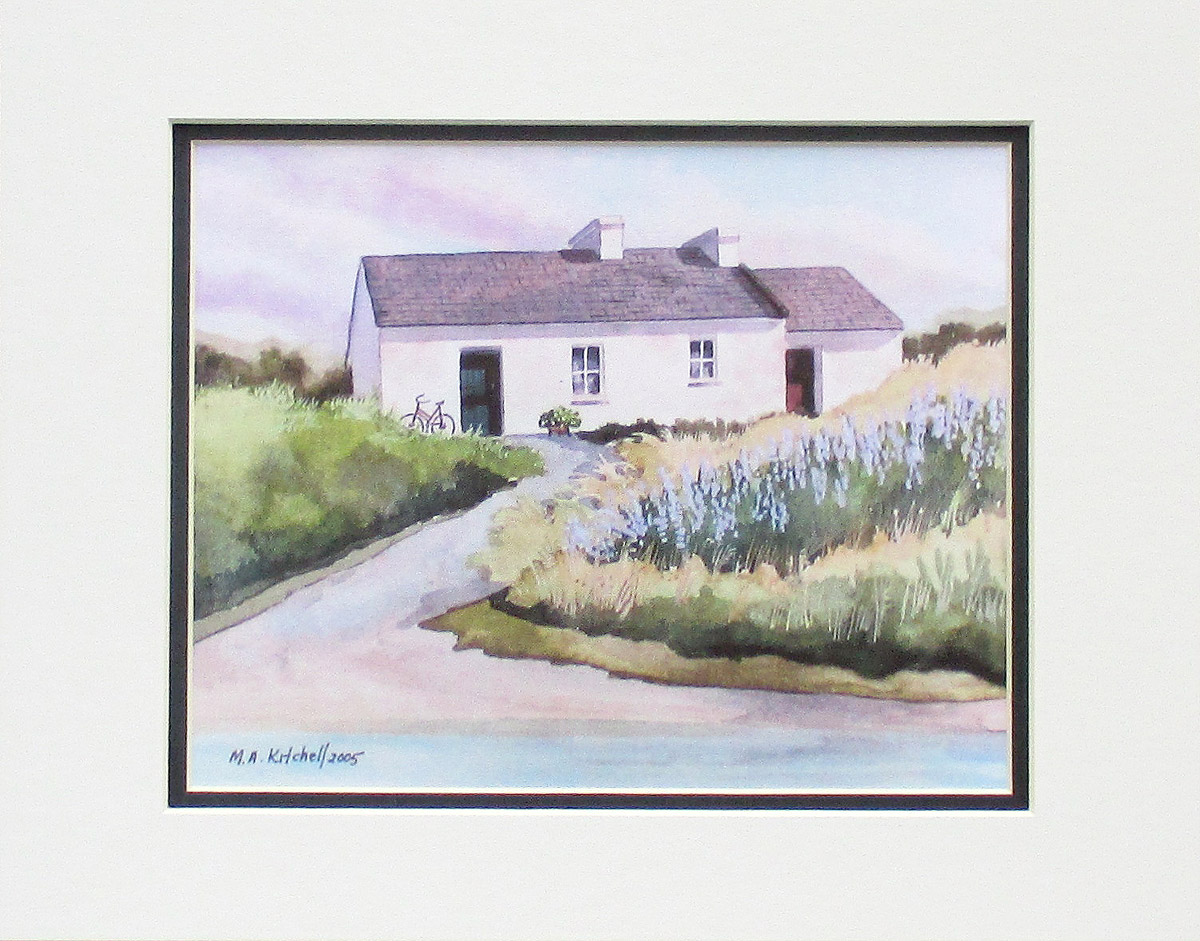 "The Irish Cottage" Watercolor painting by Mary Ann Kitchell © 2015 using Economy Mat Series.
This WOW!!! is about those feelings that inspire us and remain in our minds forever. That's what happened with today's painting, "The Irish Cottage" by artist Mary Ann Kitchell. A combination of what she felt was successful painting technique and the emotional feeling of being "in the painting" made this watercolor so special for her that it become her personal favorite. As Mary Ann told us:
"This painting was commissioned by a daughter wishing to have a remembrance of her mother's family cottage in Ireland. The cottage was being sold after her mother's death. The red bicycle was not in the photograph but this detail was requested with the commission and I was glad to oblige. This painting produced happy tears, and to this day remains my all time favorite. This is the one I kept coming back to again and again; the one I've loved enough to keep using for my business cards and notepaper."
A graduate of Art Instruction School in Minneapolis, Mary Ann Kitchell has been painting house portraits for more than 30 years. "It's my belief there are no "ugly" or "plain" houses.", she says. "Some may be larger or more elegant, but all are called "home"; where the heart is, where memories live. The house is the star of the painting, the landscaping the supporting cast that enhances the structure. My goal is to create a look that invites you to the front door." Mary Ann's work falls into two basic categories: realtors presenting a gift and families who wish to remember years of living in one place. Her favorites media were and still are pencil drawing and watercolor.
Mary Ann Kitchell's house portraits are inspired by photographs submitted by clients. "Some photographs are accurate as submitted," she says, "others need lines straightened, bushes trimmed, flowers added. One of my favorite things is to take a cloudy gray sky and make it blue."
Discover more about Mary Ann Kitchell on her website and on Etsy. For pet or house portrait commissions, please contact her.
About the photo:
"The Irish Cottage"
Watercolor painting by Mary Ann Kitchell © 2015 using
Economy Mat Series
, a double mats combination of textured #228 Bright White on top with 1/4 inch reveal showing #246 Dark Grey as the inner mat.
Share it: