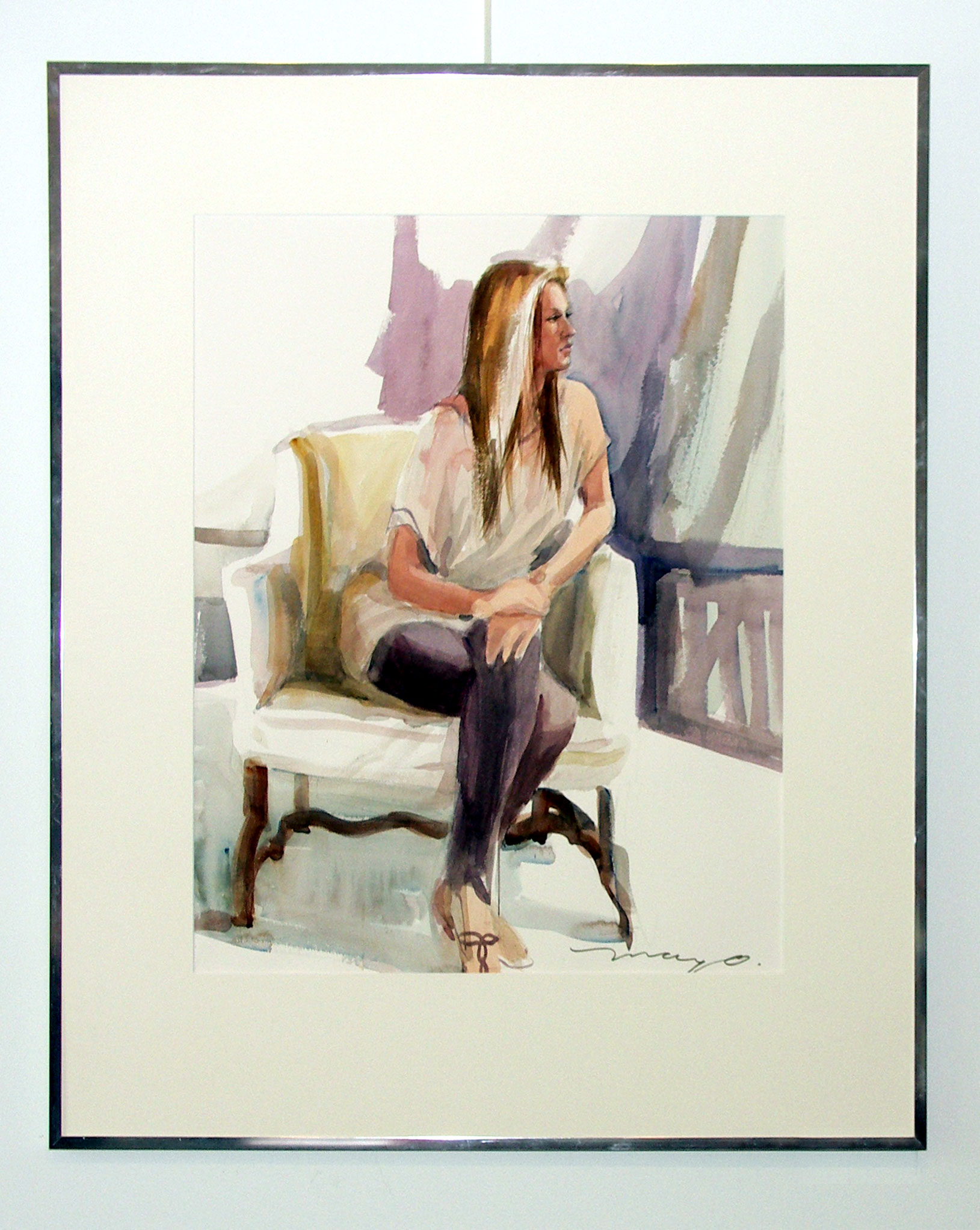 This WOW!!! shows us the importance of leaving white areas in combination with colors. In today's watercolor painting
"Allysa"
by artist
Mary O. Smith
we can enjoy the way the artist is alright with leaving the white areas, adding light and perfectly balancing it with the colors used. Both elements create an expression, a storytelling around the model. As Mary O. Smith told us:
"It was done from an open studio class I taught in St. Simon's Island, Ga. It is watercolor done in a quick sketch method. Letting the watercolor dry between layers. She was a really good model. Attractive and held the pose for us with just a few breaks. In watercolor, I like to plan the white of the paper and it is an essential part of my style. Casual and expressive is the pose. Designing the whites, the edges and keeping a likeness is important to me. Conveying a moment of time and light with color and shape intrigues me with every painting. I try to engage the viewer with my use of suggestive and loose brush strokes and use of color and composition. I wondered when I painted Allysa: What was she thinking about during our short painting session."
Mary O. Smith majored in Interior Design and received a Bachelors of Design degree from Louisiana State University in 1982 but really didn't start painting in watercolor until 1994. "I loved drawing in all levels of my education," she told us. Having the drawing skills, she took weekly watercolor lessons and then eventually took more immersed watercolor workshops from instructors Judi Wagner, Tony Van Hassseltt, Judi Betts, and Roberta Carter Clark. She currently paints in both watercolor and oil mediums.
About entering outdoor festivals & shows, showing and selling her watercolor work, Mary O Smith told us: "I cut my own mats at the beginning and used metal frames to show them in a simple frame so the artwork would be the focus. As an Interior Designer by trade, I understand the importance of a wonderful piece of artwork being framed to enhance the interior design of the space and the artwork itself. Framing is an expression of both the artist and the client, in my opinion." Mary also entered national shows which require the artwork to be framed very simply.
Now she mostly paints in plein air events with both oil and watercolor. "I try to make framing on location as simple as possible," she says. "I order pre-cut mats with metal frames and ready-made wood frames for the oils."
Mary has been a customer of Stu-Art Supplies for over 15 years and during that time has used an assortment of Nielsen Frames and Artique 4901 White archival matting.
Mary O. Smith has been teaching watercolor plein-air workshops herself and for art groups in Georgia and Florida for a number of years now. She's a signature member of Georgia Watercolor Society and has won many local and national shows with watercolors and oils. "Each painting is a new challenge," Mary said. "The mix of each color and value to recreate a scene from life is the challenge."
Discover more Mary O. Smith's beautiful paintings on her website.
Subscribe to our Newsletter:
If you Like it, please Share it: